Get the latest with Neth Daño, Silvia Ribeiro and Niki Martinez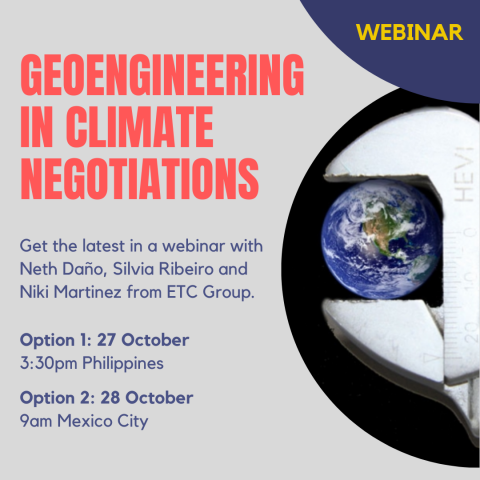 Under the radar of many people and governments, several risky geoengineering techniques are being considered at UN climate negotiations. Most are speculative technologies that could cause even more climate chaos and function as a costly distraction from real solutions.

This webinar, cohosted by ETC Group and RLS will provide an overview of the likely and unlikely places where geoengineering might pop up at UN climate negotiations.

Join the webinar to learn more about geoengineering in international governance spaces and how social movements and civil society can learn more and act about it towards climate justice.

We're offering two options so that folks from all different time zones can join.

Option 1 -  Asia/Pacific/Africa/Europe
27 October 2022 at 9:30am Central Europe / 9:30am Central Africa / 3:30pm Philippines / 7:30pm Fiji
Language: English
Registration link: https://zoom.us/meeting/register/tJcscu6upz0vGdOsznv-mEIkgdM8wipDejBF

Option 2 - Americas-Europe-Africa
October 28 11am Buenos Aires / 10am Montreal / 9am Mexico City
Languages: English and Spanish with live interpretation
Registration link: https://zoom.us/meeting/register/tJcpdeurrD0oGdBuDiF1FjlapncREM7kcCbS