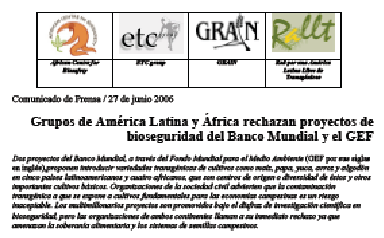 Two World Bank projects, with funding from the GEF (Global Environmental Facility), propose to introduce genetically modified crops such as maize, potatoes, cassava, rice and cotton into five Latin American and four African countries that are centers of origin or diversity for these and other major food crops. Civil society organizations warn that DNA contamination from genetically modified crops poses an unacceptable risk to stable crops that are the basis of peasant economies in these regions. The multi-million dollar projects are being promoted under the guise of scientific biosafety research, but civil society organizations on both continents are calling for their immediate rejection because they threaten food sovereignty and farmer-controlled seed systems.
The African Center for Biosafety, the Network for Latin America Free of Transgenics and the international organizations Grain and ETC Group have released an in-depth analysis of two World Bank projects: West Africa Regional Biosafety Project affecting Mali, Burkina Faso, Senegal and Togo; and Latin American Multi-Country Capacity Building in Biosafety, to be implemented in Brazil, Colombia, Costa Rica, Mexico and Peru.
"Although they are presented as 'biosafety' projects, these proposals pave the way for the introduction of GM varieties of staple crops that are of fundamental importance to peasant communities" said Elizabeth Bravo from the Network for Latin America Free of Transgenics.
The project participants include research institutions within the different countries, the International Center for Tropical Agriculture (CIAT, based in Colombia, a member of the Consultative Group on International Agricultural Research, CGIAR) and the World Bank. Project advisors include AfricaBio and PRRI (Public Research and Regulation Initiative), industry-affiliated organizations that are well-known promoters of GM crops. Civil society organizations point out that, by opening new markets to GM crops, it is the biotech industry that is the true beneficiary of the project.