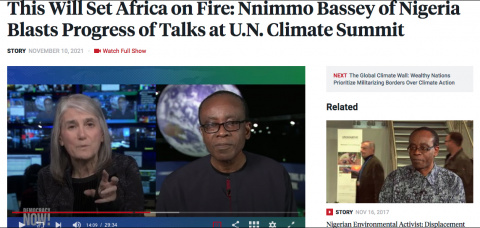 For immediate release
Tuesday, 16 November 2021
The rapidly developing existential threat posed by climate change, already recognised by peoples around the world, needs to be effectively addressed by governments. Yet COP26 officially concluded in Glasgow with little beyond flashy promises and dodgy trade initiatives. This was facilitated by the UK Presidency, which allowed the fossil fuel lobby to dominate COP26 [1] whilst excluding many others, especially from the Global South [2]. This bias inevitably contributed to the following outcomes:
Fast-track for geoengineering as climate colonialism replaces climate denial
With the science around climate change certain, climate denial is becoming a thing of the past. Fossil fuel companies have U-turned from refusing to accept that climate change is real to devising a dizzying array of ways of making money out of it, launching a fanfare of glittering but exclusionary initiatives, including at the World Leaders Summit innovation event [3]. These are designed to deliver a reassuringly positive (although false) public narrative and to greenwash the companies involved, and include the promotion of high-risk geoengineering technologies. This is both extremely concerning because these non-existent technologies divert attention away from the implementation of real solutions; and bizarre given that geoengineering is under a de facto moratorium in the UN Convention on Biological Diversity [4]. 
High profile US/China bilateral deal also promotes geoengineering
Plans to profiteer on the back of the climate crisis were exemplified by the US and China, the world's top producers and users of fossil fuels, who launched a joint declaration on 'enhancing climate action'. This deal announces their intention to develop and deploy  geoengineering technologies such as Carbon Capture Use and Storage (CCUS) and Direct Air Capture (DAC) [5]. These largely theoretical technologies mostly create more emissions than they reduce, and are primarily being developed by the fossil fuel industry to justify further fossil fuel extraction and emissions under the 'Net Zero' conceptual trap [6].
US/UAE initiative 'AIM for Climate' fires poison arrow at food and climate policy
Another initiative launched on the sidelines of COP26, 'AIM for Climate' (AIM4C) threatens food sovereignty. Launched by the US and UAE, and supported by the UK Government and others, its proponents claim it could make the global food system 'Net Zero' by 2050 [7] through climate-focused 'innovation' (meaning food production based on digitalisation, automation and synthetic biology technologies). But AIM4C is primarily intended to advance a new wave of high tech industrial agriculture, reframing Big Ag from climate change villain to hero, attracting climate finance, and aligning it with the interests of big data companies like Microsoft and Amazon's AWS, who are already moving into agriculture [8]. AIM4C threatens to ramp up land-grabbing, threatening the very existence of the smallholder and peasant farmers who are the ones that feed the majority of the world's population and are already cooling the climate through local and ecological agriculture [9]. We successfully raised these concerns in Glasgow with civil society, Indigenous and farmers' organizations, and Climate Action Network awarded the US a 'Fossil of the Day' for AIM for Climate on 3 November [10]. ETC Group also raised our concerns with governments and delegates, and we were requested to leave a launch event so that AIM for Climate's proponents could dodge criticism.
'Net Zero' Con widely denounced including by governments
'Net Zero' is a typical 'doublespeak' term: it is not real zero, but a trap specifically designed to allow fossil fuel companies to keep on polluting, as well as the establishment of new carbon markets. Shamelessly, 'Net Zero' by 2050 is touted by many as the goal for climate negotiations, but this is actually the direct opposite of what is needed: leaving fossil fuels in the ground. Over 700 civil society organisations from around the world issued a global call for 'Real Solutions, Not Net Zero' at the start of COP26 [11] and ETC Group participated in a key civil society event setting out "Why Polluters are 'Net Zero' 's Biggest Champions" [12]. There is also opposition amongst governments: Bolivia, speaking on behalf of the Like Minded Developing Countries in official negotiations on the last day of COP26, explicitly challenged the concept of 'Net Zero' [13].
No plans to leave fossil fuels in the ground
Almost 30 years after the UN Framework Convention on Climate Change (UNFCCC) was signed, COP26 was still unable to commit to the phase out of fossil fuels. The fact that 'fossil fuels' were just mentioned in a COP text, for the first time in three decades of negotiations – and even then only in the context of "inefficient fossil fuel subsidies" [14] – hardly inspires confidence that the rapid progress needed is imminent.
Lobbyists from fossil fuel industry should be excluded from any future COPs and other climate negotiations
COP26 is over, and its participants have dispersed. The outcomes are deeply troubling, but the strength and breadth of civil society's energy, demands for change, and linking and networking, even given the extremely difficult circumstances presented by the pandemic, was heartening. 
We need to redouble our efforts to curtail climate change in real, effective and equitable ways that protect food sovereignty and human rights. To this end, lobbyists from the fossil fuel industry, who outnumbered every delegation at COP26 [15], should be systematically excluded from any future climate COPs and other climate negotiations. 
---
CONTACT
ETC Group experts can be contacted for further information and quotes through:
Ronnie Hall (Sussex, England), Tel/Signal: +44 7967017281, email:  ronnie@etcgroup.org 
or 
Laura Dunn (Montréal, Canada), laura@etcgroup.org 
---
FOOTNOTES
[1] The fossil fuel sector had more lobbyists present at COP26 than even the largest national delegation, and its lobbyists were included in 27 official country delegations, allowing them extensive access to COP26 and influence over the course of the negotiations. "Hundreds of fossil fuel lobbyists flooding COP26 climate talks", Corporate Accountability, Corporate Europe Observatory and Global Witness, 8 November 2021,  
https://corporateeurope.org/en/2021/11/hundreds-fossil-fuel-lobbyists-flooding-cop26-climate-talks
[2] Access to COP26 was deeply inequitable, with many from the Global South restricted through vaccine apartheid, constantly changing and chaotic visa arrangements, and the UK's hostile immigration environment. Seasoned and new observers who did manage to access the COP's 'Blue Zone' were also prevented from observing negotiations that they would normally have access to. See also: https://www.theguardian.com/environment/2021/nov/08/cop26-legitimacy-questioned-as-groups-excluded-from-crucial-talks 
[3] Heads of State presentations, Accelerating Green Technology Innovation and Deployment event, World Leaders Summit, COP26, 2 November 2021. https://www.youtube.com/watch?v=IeWWzbqBLr0 
[4] To read about the CBD de facto moratorium: https://www.etcgroup.org/sites/www.etcgroup.org/files/publication/pdf_file/ETCMoratorium_note101110.pdf
[5] US-China Joint Glasgow Declaration on Enhancing Climate Action in the 2020s, https://www.state.gov/u-s-china-joint-glasgow-declaration-on-enhancing-climate-action-in-the-2020s/ 
[6] Read more at: https://www.etcgroup.org/content/etc-group-and-indigenous-environmental-network-denounce-plans-geoengineering-technologies-us and https://www.etcgroup.org/content/geoengineering-and-net-zero-con-cop26 
[7] AIM for Climate (aimforclimate.org) is led by the US and UAE, with the support of the UK COP26 Presidency, some 32 other countries, the Bill and Melinda Gates Foundation and the Food and Agriculture Organization. https://www.etcgroup.org/content/big-oil-states-plan-promote-energy-hungry-agtech-climate-solution-cop26-its-time-question and https://www.aimforclimate.org/ 
[8] To find out more about the anticipated impacts of digitalisation in agriculture read: "Hijacking Food Systems: technofix takeover at the FSS", ETC Group, July 2021.
[9] For more information: https://www.etcgroup.org/content/poisoned-arrow-food-and-climate-policy
[10] Read about CAN International's Fossil of the Day awards for 3 November 2021: https://climatenetwork.org/resource/so-the-4th-of-november-is-energy-day-at-cop26-but-is-that-positive-or-negative-you-decide/
[11] More than 700 organisations from around the world have signed a statement calling for "Real Solutions, Not Net Zero" which was published 1 November 2021: https://www.realsolutions-not-netzero.org/
[12] ETC Group participated in a key civil society side event setting out "Why Big Polluters are 'Net Zero''s Biggest Champion". Speakers were: Doreen Stabinsky, College of the Atlantic; Nnimmo Bassey, HOMEF; Maureen Santos, Global Forest Coalition and Federação de Órgãos para Assistência Social e Educacional; Tom Wakeford, ETC Group; Scott Tully, Glasgow Calls out Polluters. Facilitator: Pascoe Sabido, Corporate Europe Observatory. https://www.youtube.com/watch?v=QGv3QCpTVtE 
[13] Bolivia, speaking on behalf of the Like Minded Developing Countries said: "We still see in the text, in the document, that there are very concerning concepts that are not going to give us, to move the world in the right direction, suggesting Net Zero by 2050. We think that is a great fallacy for the world. It is impossible to achieve the 1.5 within reach in the context of Net Zero by 2050. We think that this is the great escape of developed countries, to escape from their responsibilities with climate change. Developed countries will continue using the carbon budget that belongs to the developing world and this is not fair. We need to really push developed countries not to get to Net Zero by 2050 but to achieve real reductions of emissions now...to provide a real solution to climate change." 20211113-informal-stocktaking-plenary-by-the-president-6-b18c.mp4 (1hr 35 minutes)
[14] The final text does not mandate weaning away from coal power or the phase out of fossil fuel subsidies. It uses highly ambiguous language and qualifiers which severely limit the application of the text: "accelerating efforts towards the phasedown of unabated coal power and phase-out of inefficient fossil fuel subsidies." (Decision -/CP26, IV/20) Glasgow Climate Pact, 13 November 2021, COP26 cover decision, 
https://unfccc.int/sites/default/files/resource/cop26_auv_2f_cover_decision.pdf 
###