For Outstanding Achievements in Biopiracy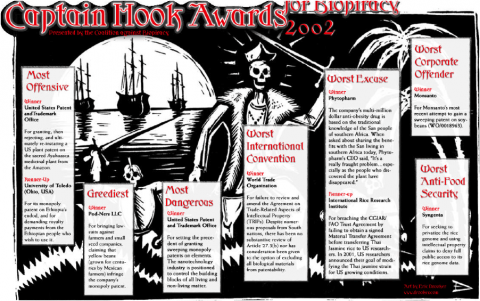 The Coalition Against BioPiracy (CAB)* will present its highly un-coveted Captain Hook Awards -for infamous and outstanding achievements in biopiracy - at the Biodiversity Convention in The Hague, April 8-19 2002. The previous Captain Hook Awards ceremony was held almost two years ago at the Fifth meeting of the Biodiversity Convention in Nairobi. The Coalition emphasizes that the Captain Hook awards are made possible by the work and activities of many civil society and peoples' organizations around the globe that actively monitor and resist biopiracy. The cases cited and the analysis used in selecting the award winners are by no means limited to the work of the Coalition Against Biopiracy.
At the COP 6 in The Hague, corporations, academics, research institutions and individual entrepreneurs will find out if they are included among the latest inductees to biopiracy's "Hall of Shame." 2002 nominees are a motley crew involved in the plunder of human genetic material, medicinal plants, and food crops on six continents. The most deserving Bio-Pirates will be formally announced at the Captain Hook Award ceremony in The Hague. Award winners or their surrogates will either accept awards or shun the spotlight. This year's biopiracy categories include: Worst Anti-Food Security, Greediest, Most Offensive, Most Dangerous, Worst International Convention, and Worst Excuse.
"On the 10th anniversary of the CBD, it's significant that there's no shortage of biopiracy cases vying for recognition. Even more disturbing, we are seeing a number of repeat offenders," says Silvia Ribeiro of ETC group, a member of the Coalition. "The only thing worse than winning a Captain Hook Award is winning a citation twice in a row!"